Best Weed Grinder in 2023
Best Weed Grinder distills the complexities of choosing and maintaining grinders into a breezy read. Navigate through top recommendations, understand diverse grinder types, and snag easy-to-follow care tips, all aimed at ensuring a smooth and enhanced user experience in your grinding endeavors.
| Rank | | Description | Why Buy | Best For | Photo |
| --- | --- | --- | --- | --- | --- |
| 1 | Santa Cruz Shredder | Known for exceptional quality and medical-grade anodized aluminum; unique tooth design for fluffiness. | Durable, reliable, available in various sizes and colors. | Those seeking high-quality and consistent grinding. | |
| 2 | Space Case Grinder | Made in the USA with high-quality titanium; sharp teeth for consistent grinding. | Extremely durable, reliable, sleek design. | Individuals looking for a premium, long-lasting grinder. | |
| 3 | Golden Gate Grinders | Affordable, made from aircraft-grade aluminum; efficient teeth for consistent grinding. | Balances quality and affordability effectively. | Budget-conscious consumers not willing to compromise on quality. | |
| 4 | Kozo Grinders | High-quality build, magnetic lid, deep collection chamber; affordable and efficient. | Affordable with a well-designed grinding mechanism. | Those seeking value for money and overall performance. | |
| 5 | SLX Grinder | Features a ceramic non-stick coating and sharp teeth; low-maintenance and smooth grinding. | Requires less cleaning due to non-stick coating; offers effortless grinding. | Regular users looking for a hassle-free, reliable grinder. | |
| 6 | SharpStone Grinders | Known for sharp teeth, durable build; available in various sizes. | Reliable, durable, and variety of size options. | Users looking for a dependable grinder with size choices. | |
| 7 | Banana Bros. OTTO Grinder | Electric grinder that can grind and pack herb automatically. | Automatic and easy to use, suitable for those with mobility issues or preference for automation. | Individuals with mobility challenges or who prefer automated grinding. | |

Unparalleled Grinding Quality:
Innovative Tooth Design: The Santa Cruz Shredder features a unique tooth design that efficiently fluffs your material, providing a consistent, fine grind.
Optimal Fluffiness: Instead of merely crushing, it fluffs the material, ensuring an even burn or vaporization for an optimal experience.
Exceptional Durability:
High-Quality Materials: Crafted from anodized aerospace-grade aluminum, it's resistant to wear, preventing the metal from flaking and contaminating your material.
Scratch Resistant: The anodizing process also provides a hard protective layer that resists scratches.
User-Friendly Design:
Textured Grip: The textured grip makes the grinder easy to use, even for those with grip issues.
Magnetic Lid: The magnetic lid provides a secure, tight seal, ensuring no spillage and easy turning.
Multiple Sizes: Available in various sizes to meet individual needs – from the compact, portable options to larger, high-capacity models.
Precision Engineering:
Superior Thread Pattern: A precise thread pattern ensures that the pieces are perfectly aligned, reducing friction and wear over time.
Durable Kief Screen: High-quality screens efficiently sift and collect the pollen, providing a delightful extra to your experience.
Innovative Technology:
T304 Micronic Precision Screen: The stainless-steel screen ensures only the finest pollen particles make it to the bottom chamber.
Zero Friction: Engineered to eliminate friction and reduce necessary torque for a smooth, satisfying grind.
Considerate to Special Needs:
Medical-Grade: The materials used are medical-grade, ensuring safety and healthiness in usage.
Inclusive Design: The user-friendly design accommodates users with limited hand strength or dexterity issues.
Extra Features:
Color Options: Available in various colors, the Santa Cruz Shredder allows you to express your personal style.
Warranty: Quality backed by warranty and customer service ensures you're making a risk-free purchase.
The Santa Cruz Shredder is not just a grinder; it's an investment in enhancing your experience, preserving the quality and potency of your materials. Combining cutting-edge technology, high-quality materials, and precision engineering, it delivers an unparalleled grinding experience designed to stand the test of time. So, why wait? Make the Santa Cruz Shredder yours today and step into a world where excellence and practicality collide!

Unrivaled Quality and Precision
Elite Materials: Manufactured using aircraft-grade aluminum, the Space Case Grinder promises not only sturdiness but also lightweight handling.
Sharp, Diamond-Cut Teeth: Ensure that your herbs are ground to perfection, maintaining their potency and aroma.
Consistency is Key: The fine grind provided by Space Case is second to none, ensuring an even heat distribution for smoking or vaporizing.
Cutting-Edge Design
Smooth Operation: The Teflon grade O-ring ensures a smooth, frictionless grinding experience.
Magnetized Lid: The powerful neodymium magnetic lid prevents spillage and ensures a secure seal.
Compact and Portable: Available in various sizes, Space Case caters to both minimalistic and robust usage needs.
Impeccable Performance
Durable Mesh Screen: A high-quality screen that reliably sifts and collects kief.
Long-Lasting: Built to last, with durability that promises years of consistent, impeccable performance.
Health and Safety
Non-Toxic: Crafted with your health in mind, it is non-toxic and safe for use with all types of herbs.
No Metal Shavings: The high-quality manufacturing process ensures no metal shavings are introduced during grinding.
Customer-Centric Features
User-Friendly: The simplistic yet functional design ensures that it is user-friendly and easy to clean.
Lifetime Warranty: The Space Case comes with a lifetime warranty, underscoring the manufacturer's confidence in the product's quality and durability.
Additional Characteristics
Variety: Choose from a spectrum of sizes and finishes to suit your personal style and usage needs.
CNC Machining: Computer numerical control machining guarantees that each grinder is manufactured to exact specifications.
Reputation: A celebrated product amongst enthusiasts, known for delivering reliable, superior performance every time.
Aesthetic and Customization
Stylish: The sleek, metallic finish doesn't just offer durability but also a timeless aesthetic.
Customizable: Choose from different colors and designs to make your Space Case Grinder uniquely yours.
When you invest in a Space Case Grinder, you're not just purchasing a tool; you're securing a potent, consistent, and enjoyable experience with every use. With a blend of elegant design, elite materials, and optimal functionality, it elevates your herb grinding to a luxurious, yet entirely accessible, experience. Embrace the full, rich essence of your herbs with the Space Case Grinder – an investment into a world where quality meets satisfaction. Secure yours now and step into a realm where excellence is the standard!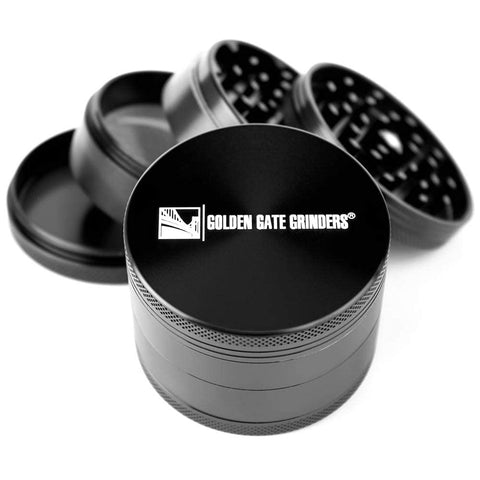 Superior Grinding Consistency
Diamond-Cut Teeth: Razor-sharp, precision-engineered teeth provide a flawless, even grind every time, maximizing the efficacy and aroma of your herbs.
Unparalleled Consistency: Ensures that your herbs are evenly ground, enhancing the quality and duration of your sessions.
Robust and Enduring Quality
Aircraft-Grade Aluminum: Manufactured with the same durable material used in aircraft, offering unparalleled durability.
Anodized Finish: The anodized coating not only contributes to its aesthetic but also prevents the grinder from flaking and peeling.
Thoughtful and User-Friendly Design
Neodymium Magnets: These magnets ensure a tight seal, preserving the freshness and aroma of your herbs.
Compact Design: Portable and discreet, the Golden Gate Grinder is perfect for on-the-go usage.
Effortless Grinding: The smooth and easy-turning system offers a seamless grinding experience without any snagging.
Optimal Pollen Collection
Effective Sifting Screen: A stainless steel micron mesh screen effectively segregates pollen, ensuring no waste and an enhanced experience.
Pollution Scraper: Comes with a pollen scraper, ensuring you can gather every precious bit.
Health-Conscious and Safe
Safe Materials: Built with materials that are safe and non-toxic to ensure your wellbeing.
Zero Metal Shavings: Quality construction ensures no metal shavings compromise your herb's purity.
Customer Satisfaction and Assurance
Lifetime Warranty: Demonstrating the brand's confidence in its product, offering you peace of mind with your purchase.
Reputable Brand: Golden Gate has a strong reputation for providing quality and durability in their products.
Additional Attributes
Versatile Options: Available in various sizes to cater to your specific usage requirements.
Efficient Grinding: Ensures your herbs are utilized to their fullest potential, preventing any wastage.
The Golden Gate Grinder isn't just a tool, but a passport to ensuring your herbs are treated with the respect and care they deserve. With its potent mix of reliability, sleek design, and robust functionality, it promises an unparalleled, consistent experience, whether you're at home or on the move. So, why wait? Elevate your sessions with the Golden Gate Grinder today, and step into a world where quality, reliability, and supreme functionality reign supreme!
Remarkable Grinding Efficiency
Sharp Teeth: A plethora of precisely engineered, sharp teeth guarantee a consistent, smooth grind every time.
Smooth Experience: Expect a buttery-smooth grinding action that requires minimal effort, perfect for extended usage.
Robust and Stylish Construction
Durable Material: Crafted from high-quality, durable materials, the Kozo Grinder is built to last.
Deep Chamber: A generously deep and spacious chamber to accommodate larger amounts of herbs.
Sleek Aesthetics: Available in various colors and designs, it complements your style while being a functional tool.
Innovative Design Features
Magnetic Lid: A strong magnetic lid ensures no spilling, keeping your contents securely inside.
See-Through Chamber: Select models feature a see-through chamber, allowing you to witness the grinding action in progress.
Upgraded Design: The Kozo Grinder continually evolves, with each version boasting enhancements based on customer feedback.
Superior Filtration and Collection
Efficient Kief Collector: A meticulously designed kief collector, coupled with a scraper, ensures you make the most of your herbs.
Mesh Screen: A perfectly-sized mesh screen allows for optimal filtration, ensuring only the finest particles reach the collection chamber.
User-Friendly Aspects
Ergonomic Grip: The textured grip ensures easy handling and usage, even for those with grip issues.
Easy to Clean: Designed to be easily dismantled, making cleaning a breeze and ensuring optimal functionality.
Customer Assurance and Support
Customer-Centric: Kozo is renowned for its excellent customer service and is always ready to assist.
Lifetime Warranty: The grinder comes with a lifetime warranty, reinforcing its durability and the brand's confidence in its product.
Accessibility and Versatility
Portable: Compact yet spacious, it is perfect for both at-home and on-the-go use.
Versatile Usage: Effective for grinding various herbs to your desired consistency.
Embracing the Kozo Grinder is embracing a world where efficacy meets sophistication. Every twist is a step towards perfection, ensuring your herbs are treated with the utmost respect, maintaining their quality and potency. The Kozo Grinder does not just fulfill a need; it enhances every session, providing a reliable, efficient, and stylish means of preparation. Secure your Kozo Grinder now, and step into a realm where every grind is a step towards perfection!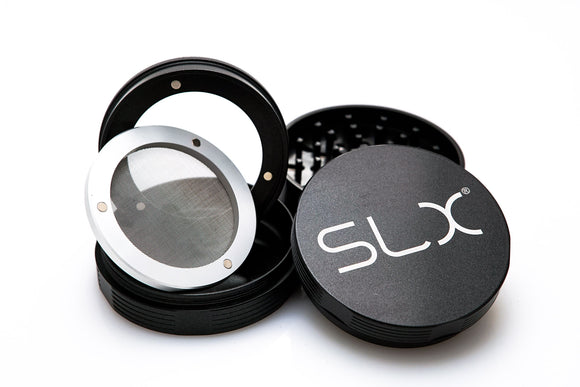 Non-Stick, Always Slick
Ceramic Coating: SLX grinders feature an exclusive, patented ceramic non-stick coating which reduces friction and ensures that no material sticks to its surface.
Zero Waste: Your herbs remain uncontaminated and nothing goes to waste, ensuring every bit of your material is utilized.
Razor-Sharp, Consistent Grind
Sharp Teeth: 7075 aluminum used in SLX teeth is as strong and sharp as premium steel, ensuring an always consistent grind.
Fine Grind: Ideal for ensuring an even burn and smooth pull, enhancing your overall experience.
Robust and Elite Quality
Aerospace-Grade Aluminum: Constructed with aerospace-grade aluminum, ensuring durability and resistance against wear and tear.
Premium Build: Quality is embedded in every component, ensuring your grinder withstands regular use without degrading.
Effortless Experience
Friction-Free: The ceramic coating ensures a smooth, frictionless grinding, making the process effortlessly smooth.
Easy Maintenance: SLX grinders are simple to maintain and require minimal cleaning due to their non-stick nature.
Thoughtful and User-Focused Design
Pollen Catcher: Features a reliable pollen screen and comes with a handy scraper to ensure you get the most out of your herbs.
Variety of Sizes: Available in multiple sizes to cater to every preference, from pocket-friendly to party-sized.
Unrivaled Versatility
Color Options: Choose a hue that resonates with you – SLX grinders come in a variety of vibrant, sleek colors.
Diverse Models: Choose from 2-piece models for simplicity or 4-piece for a more comprehensive grinding and pollen collection.
Health and Safety
Safe Materials: With health in mind, SLX ensures that all materials and coatings are non-toxic and safe for use with your herbs.
FDA Certified: The ceramic coating is FDA certified as "food safe," ensuring your herbs are always safe and uncontaminated.
Community and Brand Trust
Reputable Brand: SLX has garnered a reputation for creating products that satisfy and endure, creating trust within the community.
Customer Support: Dedicated customer service to assist and enhance your SLX experience.
Choosing an SLX Grinder means choosing to immerse yourself in a seamless, luxurious grinding experience where your herbs are treated with the respect they deserve. From the first twist to the last, SLX promises a smooth, friction-free experience, ensuring your sessions are always exceptional. Immerse yourself in the SLX experience and redefine what you expect from a grinder – choose SLX and grind with the best.
Unwavering Quality
Durable Materials: Built with solid and durable materials such as aircraft-grade aluminum and robust stainless steel.
Razor-Sharp Cutting Blades: Ensuring your herbs are efficiently and uniformly ground without destroying their structure.
Finely-Tuned Functionality
Multiple Chambers: Available in 2, 4, or 5-piece variants, providing flexibility in grinding and separating your herbs and pollens.
Smooth Operation: Designed to deliver a smooth grinding experience, minimizing effort and maintaining ease of use.
Technologically Driven Design
Magnetic Lids: Powerful neodymium magnets ensure the grinder's lids stay securely in place, protecting your herbs and preventing spillage.
Precision Grinding Holes: Ensuring your herbs fall through at just the right size, guaranteeing a consistent grind.
Efficient Pollen Collection
Sturdy Pollen Screens: Helping you separate and collect the fine pollen, enhancing your herb utilization.
Convenient Scraper Included: Aiding in the collection of all the precious pollen without any wastage.
Innovative Aesthetics
Variety of Designs: From classic polished metals to vibrant colors and unique designs, there's a SharpStone to fit every personality.
Clear-Top Models: For those who appreciate visualizing the grinding process, SharpStone's clear-top models provide a view into the action.
Compact and Portable
Size Variants: Ranging from pocket-sized to tabletop models, offering optimal grinding solutions for every context, whether you're on-the-go or relaxing at home.
Lightweight Construction: Ensuring it's never a burden to carry, while maintaining its sturdy build.
Trusted and Reputable Brand
Time-Tested Reliability: A long-standing reputation for crafting reliable, durable grinders that stand the test of time.
Authenticity Verification: Genuine SharpStone grinders come with a PGP (Product Guarantee Program), assuring you receive a genuine, quality product.
Accessibility and Affordability
Competitive Pricing: High-quality experience without the high-cost hurdle, making it accessible to a wide range of enthusiasts.
Ease of Maintenance: Simple to dismantle and clean, ensuring your grinder always operates at peak performance.
Immersing yourself in the world of SharpStone means investing in a time-tested, enthusiast-approved tool that promises to elevate your sessions with flawless, consistent grinding. Each turn is a testament to years of expertise, innovation, and understanding of what you, the enthusiast, truly need.
Secure your SharpStone Grinder today and explore a world where quality, affordability, and innovation coalesce into an unmatched grinding experience. Make every session a SharpStone session and witness the pinnacle of grinding efficiency!
A Technological Marvel
Smart Grinding Technology: The OTTO Grinder utilizes precision smart milling technology to sense the consistency of its contents and adjust its grinding mechanism accordingly.
Automatic Rolling: Not only does it grind, but it also intuitively fills and rolls cones with a simple touch of a button, providing a mess-free solution to manual rolling.
Exceptionally Consistent Grinding
Uniform Grind: It ensures that your herbs are ground to uniform perfection, providing optimal consistency for a smoother burn and draw.
Perfect Cones: The automated cone-filling system crafts impeccably rolled cones, ensuring an optimal smoking experience every time.
Convenience and Efficiency
One-Touch Operation: Simplifies the grinding and rolling process into a one-touch operation, making it incredibly user-friendly.
Fast and Efficient: The rapid grinding and rolling mechanism saves time and prevents waste, ensuring every bit of your herb is utilized effectively.
Portable and Compact
Compact Design: Designed with discretion and portability in mind, making it an ideal companion for on-the-go enthusiasts.
Wireless Operation: Being battery-operated, it eliminates the need for manual cranking, providing a fuss-free grinding experience.
Precision Engineered
Durable Materials: Crafted with premium materials that ensure longevity and consistent performance.
Fresh Seal Cone Tube: The cones are stored in a fresh seal tube which ensures they remain in perfect shape and retain their freshness.
Inclusive Package
Comprehensive Kit: Comes with everything you need to get started, including fresh seal cone tubes, extra seal, cleaning brush, USB charging cable, and cone retention straw.
Multiple Cone Sizes: It supports different cone sizes, offering flexibility and adaptability for your sessions.
Reputed and Trusted Brand
Innovative Leaders: banana bros. have established themselves as pioneers in creating innovative, user-focused smoking accessories.
Quality Assurance: Known for their commitment to quality, banana bros. ensures that every OTTO Grinder adheres to the highest standards.
Designed for Everyone
Easy to Use: Intuitive design makes it suitable for novices and seasoned enthusiasts alike.
Low Maintenance: Easy to clean and maintain, ensuring long-lasting optimal performance.
The banana bros. OTTO Grinder invites you into a world where preparation of your herbs becomes a simple, enjoyable, and efficient process. Each session becomes a testament to technology and innovation, allowing you to experience the true flavors and aromas of your herbs without the typical preparatory hassles.
Engage with the future of grinding and rolling – choose the OTTO Grinder, and immerse yourself in a world where technology and tradition coalesce into something truly remarkable. Elevate your experiences with banana bros. and discover the true meaning of convenience and quality!
Things to Consider While Buying:
While all the above-listed grinders come highly recommended, potential buyers should consider their specific needs, preferences, and budget before making a purchase. It is also advisable to look for the latest customer reviews and check for warranty and return policies before buying.
What is a weed grinder?
Weed grinders are indispensable tools for cannabis enthusiasts and connoisseurs, designed to break down cannabis buds into smaller, consistent pieces, maximizing surface area and ensuring an even heat distribution for vaping or smoking. These compact devices have grown in popularity due to their ability to provide a smoother, more refined experience by enhancing the efficacy and flavor profiles of cannabis products.
A weed grinder typically consists of two or more domed-shaped pieces that fit together, creating a tight seal. Inside, sharp teeth or pegs work to shred the cannabis buds when the two halves are twisted. Depending on the design, weed grinders may come with one, two, or three compartments; the third compartment usually serving to catch and collect kief, the resinous trichomes of cannabis that contain a high concentration of cannabinoids and terpenes.
Selecting the right weed grinder is crucial as it significantly impacts the quality of the grind, the user's experience, and the longevity of the tool. A poorly chosen grinder can lead to uneven grinding, waste of product, and a less than satisfactory experience. Thus, understanding the types, materials, and features of weed grinders is essential for both novice users and experienced cannabis aficionados seeking to optimize their experiences. This article aims to explore the world of weed grinders, shedding light on how to select the best one to suit individual needs and preferences, and delving into their varied forms and functionalities.
Shop and explore our best weed grinder!
Key Considerations for Selecting the Best Weed Grinder
1. Material:
The material of the grinder plays a pivotal role in its durability and performance. Grinders are typically made from metal (aluminum, zinc alloy, or titanium), plastic, or wood. Metal grinders are generally more durable and provide a smoother grinding experience, while plastic and wood grinders are lighter and more portable but may not last as long.
2. Size and Portability:
The size of a grinder affects its portability and capacity. Smaller grinders are more convenient for on-the-go use, while larger ones can accommodate more product, which is suitable for heavy users or group sessions.
3. Number of Compartments:
Grinders come in different configurations: 2-piece (single compartment), 3-piece (two compartments), and 4-piece (three compartments). More compartments allow for better separation of the product and collection of kief. Users should consider their preferences for product separation and whether kief collection is a priority.
4. Teeth/Blade Quality:
The quality of the teeth or blades determines the consistency of the grind. Sharp, well-designed teeth will provide a more even grind and will likely last longer, delivering optimal results over time.
5. Ease of Use and Maintenance:
Some grinders require more effort to use and maintain than others. Consideration should be given to how easy it is to grind the product, clean the grinder, and whether it needs regular maintenance, like lubrication.
6. Price:
Price is always a critical factor in any purchase. While higher-priced grinders often offer better quality and durability, there are also many affordable options available that provide good value for money. It is important to balance your budget with your needs and preferences.
7. Brand Reputation and Reviews:
Finally, considering the brand's reputation and reading user reviews can give insight into the grinder's performance, reliability, and value for money. Well-established brands with positive reviews are usually more trustworthy and reliable.
By weighing these considerations carefully, consumers can ensure they select a grinder that will meet their needs and enhance their cannabis consumption experience, whether they are new users or seasoned connoisseurs.
Exploring Grinder Types and Features
1. Types of Grinders
a. 2-Piece (Single Compartment) Grinders: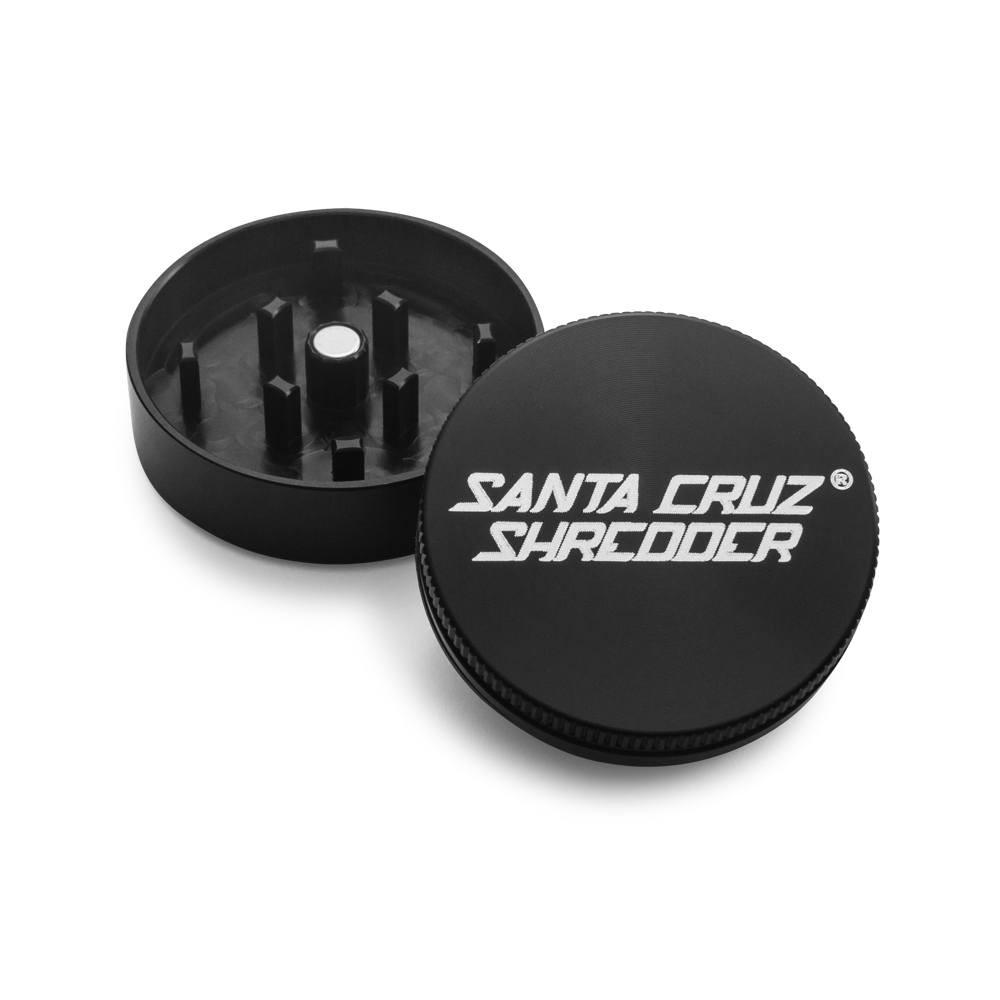 These are the simplest and most compact grinders, consisting of two pieces that come together to form one compartment. They are highly portable but do not allow for kief collection or separation of ground material.
b. 3-Piece (Two Compartment) Grinders: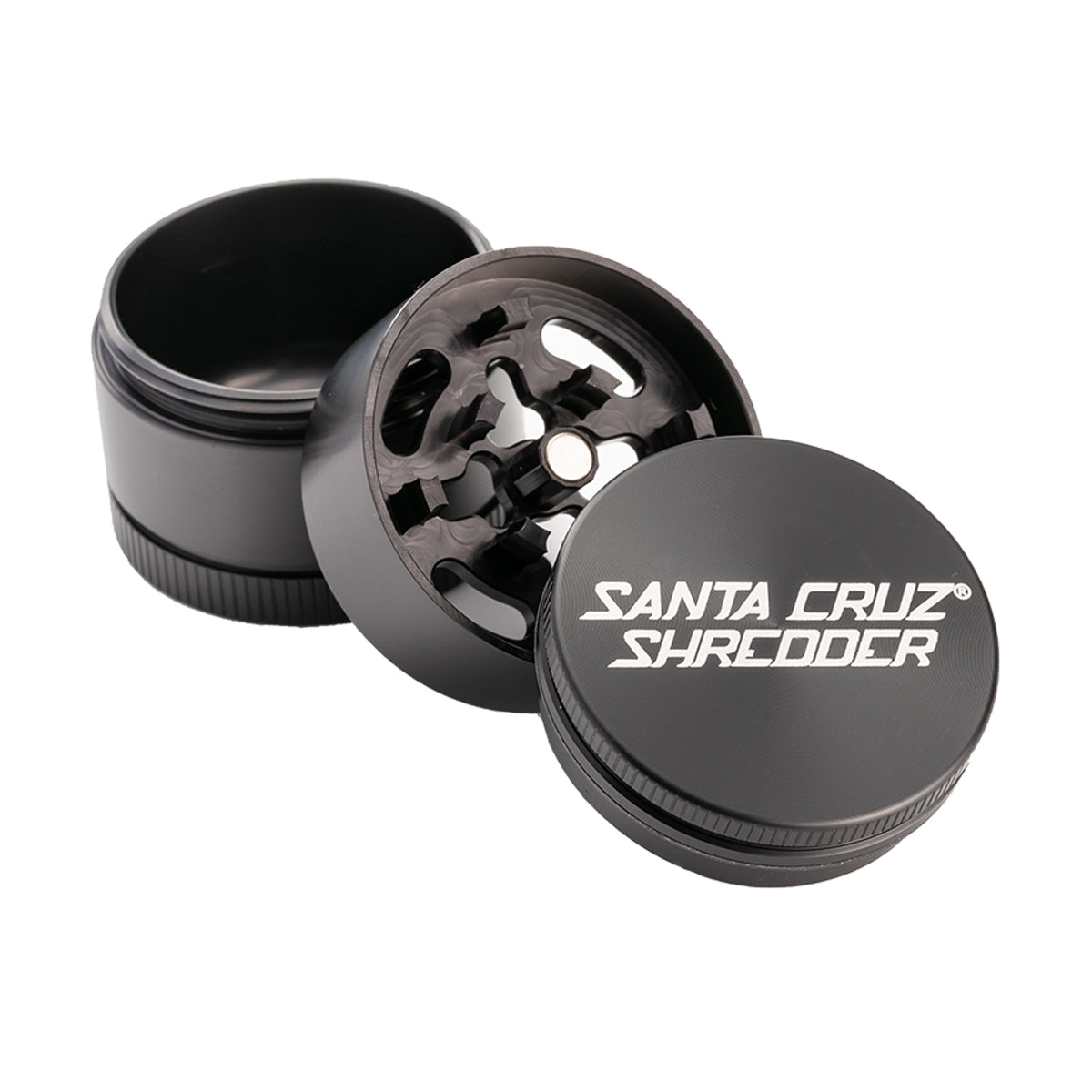 A middle-ground option, 3-piece grinders have two compartments: one for grinding and another for collecting the ground product, allowing for a bit more separation and ease of retrieval.
c. 4-Piece (Three Compartment) Grinders: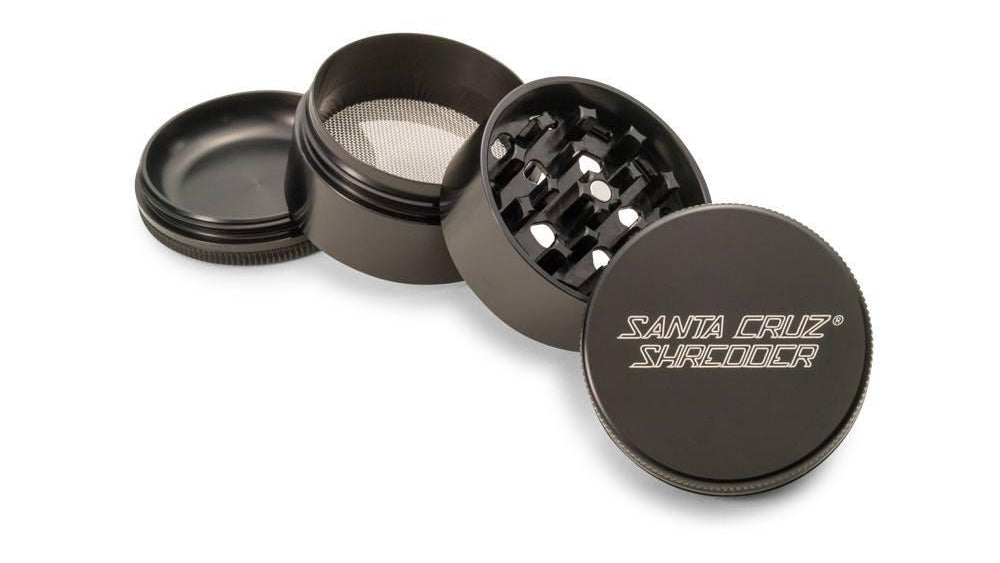 These grinders offer the most functionality with three compartments: one for grinding, one for storing the ground herb, and a bottom compartment for collecting kief through a screen. They are usually preferred by seasoned users for their versatility.
2. Grinder Features
a. Material:
Metal Grinders: Typically made of aluminum, zinc alloy, or titanium, offering durability and consistent performance.
Plastic Grinders: Lightweight and portable but usually less durable.
Wooden Grinders: Aesthetic and lightweight, but less durable and lack kief collection capability.
b. Teeth Design:
The design of the teeth affects the consistency and efficiency of the grind. Diamond-shaped teeth are common and effective, but other designs may offer different grind consistencies.
c. Magnetic Lids:
Many modern grinders feature magnetic lids to keep the grinder sealed securely, preventing spillage and ensuring smoother grinding.
d. Transparent Chambers:
Some grinders have clear top lids or chambers, allowing users to see the grinding process and easily determine when the desired consistency has been achieved.
e. Kief Catcher:
A feature in 3-piece and 4-piece grinders that allows the collection of kief, enhancing the user's experience by offering the option to use this potent by-product.
f. Adjustable Grind Sizes:
Some premium grinders offer adjustable grind sizes to cater to various preferences, allowing users to switch between fine, medium, and coarse grinds.
g. Handle or Crank:
Some grinders incorporate a handle or crank for users who prefer manual grinding without applying too much pressure, offering a more ergonomic grinding experience.
h. Electric Grinders:
These are powered by batteries or are rechargeable and can grind the product with the push of a button, offering convenience for those who may have difficulties using manual grinders.
3. Customization and Aesthetics:
Many grinders come in a variety of colors, designs, and even customizable options, allowing users to choose a grinder that reflects their personal style and preferences.
By exploring these various types and features of grinders, users can align their specific needs, preferences, and lifestyles with the right product, ensuring a satisfying and tailored cannabis consumption experience.
Maintenance and Usage Tips
| Tip | Usage Tip | Maintenance Tip |
| --- | --- | --- |
| Regular Cleaning | After several uses, grinders can become sticky and less efficient due to the buildup of resin. | Regularly clean the teeth and compartments with a small brush. For a deeper clean, soak in isopropyl alcohol and rinse (not for wooden grinders). |
| Avoid Overfilling | Avoid overfilling the grinder to prevent jams and potential damage. | Consistently check the capacity of your grinder and avoid overfilling. |
| Proper Storage | Keep the grinder in a dry, cool place to prevent moisture buildup in metal grinders. | Ensure the grinder is thoroughly dry before storing it. Consider using silica gel packets to control humidity. |
| Regular Inspection | Regularly inspect your grinder for signs of damage or wear. | Address any visible issues immediately, clean, adjust, or replace parts as needed. |
| Grinding Motion | Use a back-and-forth or side-to-side grinding motion for an even grind. | Regularly lubricate moving parts if needed for smooth grinding. |
| Material Preparation | Remove stems and seeds before grinding to prevent damage to teeth. | Regularly check for trapped stems or seeds and remove them promptly. |
| Electric Grinder Care | Avoid overloading and follow manufacturer's instructions. | Regularly clean cutting blades and ensure the battery is charged. |
| Kief Collection | Regularly collect kief if your grinder has a catcher to avoid clogging. | Use a small, soft brush or plastic scraper to collect kief without damaging the screen. |
| Lubrication | If the grinder doesn't turn smoothly, consider lubrication. | Use a food-safe lubricant on grinding teeth and moving parts for smooth operation. |
| Manual Guidelines | Always refer to the manufacturer's manual or guidelines for specific instructions. | Follow manufacturer's instructions for cleaning, maintenance, and part replacement. |